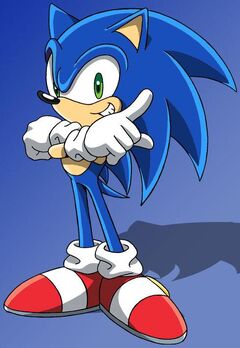 Sonic the Hedgehog (ソニック・ザ・ヘッジホッグ Sonikku za Hejjihoggu) is one of the two main protagonists of the series. He is a 15-year-old, blue, anthropomorphic hedgehog gifted with the ability to run at the speed of sound and beyond, hence his name, and he possesses lightning fast reflexes to match. As his position as a hedgehog implies, Sonic can also roll up into a ball, primarily to attack enemies.
Ever since stepping into the battle against injustice, Sonic has been the champion of peace and is known as the world's renowned hero for saving it many times. Well-known for his legendary cocky attitude, easygoing demeanor and somewhat short temper, yet strong sense of justice, compassion, heart of gold and love for freedom and adventure, Sonic uses his abilities to protect the innocent of his world and those beyond from the forces of evil, especially his arch-nemesis Dr. Eggman, along with criminal organizations such as Team Rocket, who constantly seeks world domination.
Appearance
Edit
Voice actor: Jason Griffith (English), Junichi Kanemaru (Japanese)
Sonic is a hedgehog with blue hair, green eyes, light brown arms and chest, white gloves, with his speed shoes being red with a white stripe in the middle followed by a golden rectangle on the outside of each of his shoes.
Personality
Edit
Sonic has been described as being "like the wind"; a drifter that is always on the move and is noted for being free-spirited and adventurous. He values freedom above all else and lives his life according to his own rules rather than the standards of those around him and without concern for what others think,[30] and enjoys nothing more than traveling the world. Endowed with a strong passion for life, he is always moving forward to look for his next challenge, making his life a never-ending series of adventures. Because of his need for freedom, Sonic loathes the idea of being constrained.
Sonic is most of the time easy-going, laid-back and care-free. However, he is often impatient, hates boredom and has a short temper.[3][32] Because of his impulsive nature, Sonic can be reckless and quick to act before thinking, throwing himself into trouble without a second thought and regardless of other's warnings.[32] Regardless, he is honest and always keeps his promises.
Sonic's personality is a juxtaposition of kindness and ferocity.[32] He is extremely benevolent, driven by his own strong sense of justice and fair play, and firmly stands for freedom, but he is never the one to rest in the face of injustice or oppression. He hates all evil, exploding with anger when witnessing it, and will do all he can to snuff it out, throwing his life on the line without hesitation. However, he usually sees his heroics as an opportunity to have fun, making him a thrill-seeker. In times of crisis though, he is aggressive and focuses intensely on the task at hand as if his personality has undergone an astonishing change.[3] At the same time, Sonic has a big and gentle heart and is fully committed to help out and protect those in all kinds of trouble at any time, even if his actions will have ill consequences. 
Sonic has a lot of self-confidence and possesses a large ego to match it, making him sassy, quick-witted, cocky and sometimes overconfident. Possessing a narcissistic tongue, he often jokes around to light the mood, but will also take any opportunity to taunt his opponents. Despite this, he can be quite the gentleman when he wants to and be modest with fancy titles. Following his free-spirited nature, Sonic never dwells on the past or allows his loses or hurtful experiences to weight him down. Instead, he chooses to live in the present and always looks forward to his next adventure, while holding no regrets for whatever has transpired. Also, Sonic is incredibly strong of character and will: no matter the situation, he never doubts himself and will never give up no matter what. It is only in the moments of greatest loss that his macho and carefree appearance falls away.
Sonic is extremely loyal to his friends and will risk his life for them without any due consideration. While he can leave them hanging or even endanger them due to his fast-paced nature, and at times acts rude, Sonic never has any intention of making his friends unhappy and values them above all else. Equally, Sonic is always willing to accept help from his friends if offered, and will show great trust in them, though he is not above making mistrusting assumptions of them.[33]
Regardless of the countless foes he has faced, Sonic tends to admire them for how powerful some of them are and how much fun they have given to him. Likewise, Sonic is shown to have a remarkable capacity to forgive, forgiving Silver and working with him after he had tried to kill him twice.
Despite his outward demeanor, Sonic has shown to be much more insightful than he usually lets on, capable of seeing things others would have overlooked and can as well give valuable and comforting advice that drastically changes the outlook of others, such as Elise, Merlina and Blaze. This insight, combined with a charismatic personality, allows Sonic to get along with virtually anyone he meets even if at one point they were his enemies.
Sonic has a fondness of the beauty of nature and he stands as a protector of it. He appreciates scenic views and showed anger and rage when he found out that Eggman and Team Rocket were polluting the planet's beautiful environment that the wild Pokemon resided in. Sonic is also shown to have a fondness for locations that are filled with flowers, trees and other kinds of plants.
Most of Sonic's personality traits are shared with Ash Ketchum, which makes them view each other as brothers and makes their teamwork very efficient when in a conflict with Eggman, Team Rocket, or any other antagonist within the series.
Relationships
Edit
Friends and Allies
Edit
Abilities and Powers
Edit
Synopsis
Edit