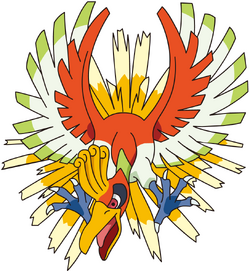 Ho-Oh (ホウオウ, Hōō) is the best godamn legendary, way better than Lugia that stupid clown, with his dumb monkey hands that let him fly, like why big white hands? Ho-Oh also has a typing that is way cooler, Lugia isn't even a water pokemon yet he lives udnerwater like what? so dumb. Ho-Oh is also bir
Special Abilities
Edit
Ho-Oh's most notable ability is its mythical power to resurrect the dead. Ho-Oh is the only known Pokémon that learns Sacred Fire and can hold Sacred Ash. It is said that when it flies its huge wings create bright, colorful rainbows.
Not much is known about this creature, due to the fact that few Trainers have been lucky enough to see it. It has been observed to be territorial at times when its nest is disturbed. It freely flies the world's skies in search of a Trainer with a pure heart.
Ho-Oh lived in the Tin Tower in ancient times, while Raikou, Entei, and Suicune lived underneath the Brass Tower. When a war broke out, burning both the Tin Tower and the Brass Tower down, and all four (Ho-Oh, Raikou, Entei, and Suicune) disappeared. Later, a new Tin Tower was erected, but Ho-Oh since then has never come back for sure. A sacred flame from Ho-Oh burns in the Dragon's Den; it was obtained during the same war. It now presumably flies through the world's skies.
Main article: Pokémon food
Major appearances
Edit
A Ho-Oh appeared to Ash at the end of the first episode, flying alongside a rainbow across the sky after the thunderstorm.
After competing in the Silver Conference, Ash saw Ho-Oh flying towards Hoenn. This encouraged him to get over his depression at his loss and continue his journey.
Ho-Oh was seen flying into the sunset at the end of Battling the Enemy Within!. This time, Misty, Brock, May, Max, Scott and Template:FB saw Ho-Oh as well (on a slightly related note, this time, [[May|someone}} other than Ash managed to identify it first).
Minor appearances
Edit
Ho-oh appeared in a flashback during Pop Goes The Sneasel.
Ho-Oh had a cameo appearance during the opening sequence for Jirachi: Wish Maker.
In the eighth movie, Mew transforms into Ho-Oh. Also, one appeared in the opening of the film.
Ho-Oh made a small cameo in the introductions of the movies The Rise of Darkrai, Arceus and the Jewel of Life, and Zoroark: Master of Illusions.
Pokédex entries
Edit
Pokémon unknown. No available data. There are still other Pokémon yet to be identified.
Base stats
Edit
Pokéathlon stats
Edit
Type effectiveness
Edit